Eye surgery – or blepharoplasty –  is a surgical procedure to meghten the skin and soft tissues of your eyelids.
As we get older the effects of ageing can really begin to show in the area around our eyes. In the upper eyelids this can result in a droopy, or 'hooded' effect, as the surrounding skin loses its elasticity and the supporting muscles weaken. In the lower eyelids, excess fat can accumulate, causing bags beneath the eyes and a 'tired' look.
As well as the unwanted aesthetic effects, these issues can also present practical problems, affecting our eyesight and reducing our peripheral vision. Blepharoplasty is the collective term for a range of procedures that can address each of these problems by removing and reducing excess skin, muscle and fat around the affected areas.
There really is no need to remain unhappy with these aspects of your appearance; Dr. Marcellino can perform a straightforward procedure to correct them, restoring lost vitality and making your eyes appear more youthful and alert.  
Eye Surgery: The procedure
Blepharoplasty treatment usually takes between one and three hours to complete and is often carried out as a day procedure. The time your individual surgery will take depends on whether it is on the upper lids, the lower lids or both together. Mr Marcellino will discuss each of the available options with you, along with the associated timescales and costs, at your initial consultation.  
Upper Eyelid Surgery
Mr Marcellino will begin by making a small incision above the eyelid. This will be made along the natural crease of the upper eyelid, making every effort to ensure any scarring will be hidden.
The underlying tissue will then be carefully separated from the skin before the underlying fatty tissue is removed or repositioned and the muscles tightened.
The skin will then be stretched in order to remove or reduce unwanted lines and wrinkles, and the incision is then closed using stitching or surgical glue.
For some patients, upper eyelid surgery only requires a local anaesthetic and a mild sedative, resulting in reduced recovery times. For others, general anaesthetic is required. Again, Mr Marcellino will discuss the anaesthetic requirements relevant to your individual treatment at your consultation.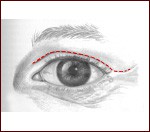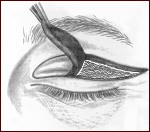 Lower Eyelid Surgery
With this procedure, Mr Marcellino will make an incision along the lower lash line, before removing the excess fat that causes 'eye bags'. The skin of the eyelid will be stretched, reducing the appearance of any lines or wrinkles.
The incision will then be stitched back up, with any excess or unwanted skin removed, resulting in smoother, younger looking effect underneath the eyes. Lower eyelid surgery, or a combination of upper and lower eyelid surgery, will almost always be performed under general anaesthetic.



Eye Surgery: Before Your Surgery
If you smoke it is strongly recommend that you stop at least two weeks prior to your surgery in order to help healing and reduce the risk of infection. Ideally you should stop 8 weeks beforehand.
If you take aspirin or any other medication you should make Dr Marcellino aware of this at your consultation as it may need to be discontinued for a short period of time before and after your surgery.
Eye Surgery: On the Day of Your Surgery
Please ensure that you arrive at the hospital in good time ahead of your operation.
Mr Marcellino will visit you in your room prior to your surgery, marking your eyes with a pen in preparation for the procedure, and also providing you with the opportunity to ask him any last minute questions you might have. A final consent form will also need to be signed.
A personal nurse will be assigned to you to ensure your care throughout.
Eye Surgery: After Your Surgery
As with all surgery, there is likely to be some bruising and swelling afterwards. This is completely normal and tends to settle within the first few days of the recovery period. Ice packs will be provided to keep this to a minimum. Painkillers will also be made available should you need them.
There will be some pink scarring in the affected areas. However, this will fade with time to form faint white lines. As the incisions are made along the natural creases of the eyelid, every effort is made to ensure any scarring will be hidden.
Mr Marcellino will advise you on how long you will need to stay off work following your procedure at your initial consultation. This is normally between one and two weeks depending on the extent of the surgery.
Physically demanding activity will need to be avoided during this period, which should ideally be set aside for rest and recovery.
During your recovery period you will need to avoid bending down.
You will be given some eye ointment which will need to be applied as directed by Mr Marcellino.
The regular application of a gel pack will help to relieve any bruising and keep the scars dry and clean until your stitches are removed.
A pair of dark glasses will help to hide the bruising and swelling in public during this time.
When sleeping your head should be elevated on pillows or cushions for the first few nights after your surgery.
It is very important that you avoid rubbing or towelling your eyes.
A post-operative appointment will be made for you with Mr Marcellino between three and seven days after your surgery for your stitching to be removed and ensure that you are healing well. It is very important that you attend.
What to Consider
With any cosmetic surgery it is important that you carefully consider your decision and what it is you would like to achieve from your treatment.
It is important that those considering surgery have realistic expectations and are in good health.
As with all surgical operations, there are some potential risks to consider. Dr. Marcellino will discuss these with you at your consultation, addressing any questions or particular concerns you may have. Some thought should also be given to practical considerations such as child care provision during your recovery period.