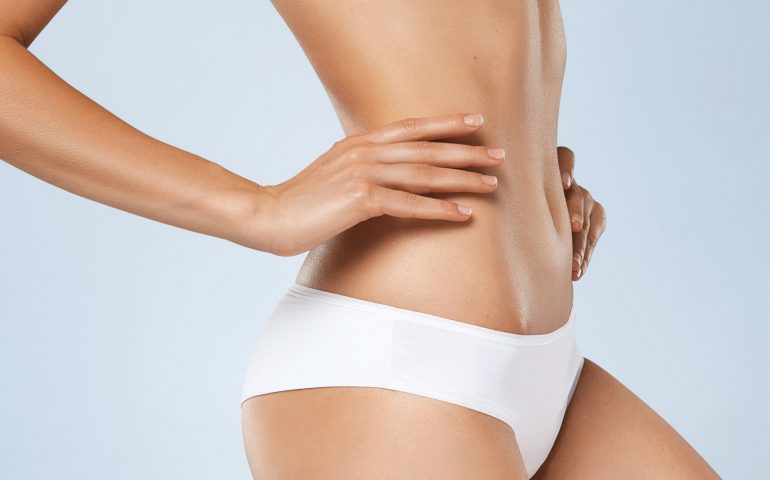 The
abdomen
is a part of the body that is easily subject to the advent of imperfections. Pregnancies, sudden weight loss or gains and a decrease of muscle tone can cause
skin excess
, fat accumulation and the appearance of stretch marks.
Keeping a dry and toned belly is the desire of many women and in many cases neither proper nutrition nor physical activity are enough not to feel dissatisfaction with your body. Luckily, there is a solution, called abdominoplasty, a surgery that guarantees a new tone to the abdomen and that gives back harmony to the silhouette.
The procedure
With the first visit I make sure that the patient is in good health, I explain the risks and possible complications. I also illustrate the
achievable results
(realistic and in line with her wishes).
During the surgery, which I perform under general anesthesia, I make some incisions to remove excess fat and skin. Upon awakening it is frequent to feel some pain that vanishes in less than 10 days. After the surgery I first apply a compression bandage and later, a containment band to wear for another four weeks.
Some scars may be permanent but they will become small, slightly visible white marks. During the recovery, which can last from six to eight weeks, the rest from any physical activity is needed and, during the first two weeks, you should even avoid working. The result of all of this? A smooth abdomen, more tonic and in equilibrium with the other body forms.
Frequently asked questions
Doubts or questions? It's only natural to have any! Below I try to answer the most frequent ones. For further clarification you can write to me at any time, I will answer as soon as possible.
01.

Bisogna essere a digiuno per sostenere l'operazione?
Si, trattandosi di anestesia generale non si deve mangiare o bere da circa sei ore prima dell'intervento.
02.

È necessario smettere di fumare prima dell'intervento?
Si. Le fumatrici, per favorire la rapida guarigione e ridurre il rischio di infezione, devono astenersi dal fumo, a partire, come minimo, da due settimane prima dell'intervento.
03.

È sconsigliato prendere farmaci prima del trattamento?
Non è sconsigliato ma esiste la possibilità che sia necessario interromperne l'assunzione.
04.

Quanto dura l'operazione e quali sono gli interventi di addominoplastica possibili?
L'operazione dura circa due o tre ore e richiede il ricovero per una o due notti. Tre sono i tipi di intervento possibili: addominoplastica standard, parziale ed estesa. Addominoplastica standard: è una delle tecniche più note, prevede un'incisione lungo il basso addome che mi consente di stringere i muscoli dello stomaco (processo di contouring) e rimuovere il grasso e la pelle in eccesso. Successivamente tendo la pelle verso il basso e richiudo l'incisione. Infine, dopo una piccola incisione intorno all'ombelico necessaria a riposizionarlo, inserisco i tubi drenanti ed eseguo un bendaggio compressivo. Addominoplastica parziale: è una tecnica meno invasiva perché non comporta lo spostamento dell'ombelico ed è dedicata a quelle donne che hanno pelle in eccesso e grasso localizzato nella parte bassa del ventre. Addominoplastica estesa: Identica all'addominoplastica standard, questo intervento necessita inoltre della liposuzione laterale con ultrasuoni (Vaser) per eliminare pelle e grasso in eccesso dai fianchi e dalla vita.
My Approach
In my many years of experience, and thanks to the patients I have met, I have developed an approach which I use for each surgery.